︎ ︎ themrgordo@gmail.com
︎ ︎ @themrgordo
︎ ︎ +447983622481
︎ ︎ Curriculum Vitae

---
︎Always seeking weird 'n' wonderful creative collaborations & commissions
---
TOP PROJECTS
20. ZINESWAP

Estd 2008, ZineSwap is a service that allows you to swap your zines through the post. You send us your zines, we send you a random selection of other zines in return.

---
LOGO - THROUGH THE AGES



2008 ︎︎︎ 2011


2011 ︎︎︎ 2018
2018 ︎︎︎ PRESENT



---

Zineswap was started by Myself & Rob Peart 15 years ago! With a few breaks here and there, we have still managed to have some super fun times at a variety of zine events, done a bunch of workshops at places like Tate Britian & Modern.

This year 2023 is going to be 'Year of the Zine!' we are going to get back on the swapping, get all of the archive documented online and push to do some more fun events.

Also watch this space as we want to also start publishing other peoples zines!

Follow us on ︎ @zineswap


---
YOUNG TATE - TATE BRITAIN - LONDON


---
LONDON ZINE SYMPOSIUM - EAST LONDON

The London Zine Symposium was a long-running annual zine festival in London, United Kingdom. The symposium was dedicated to zines, comix, art and radical culture. ZineSwap, filled a stall with zines from it's early days archive and let zinsters at the symposium drop and swap if they so pleased! Here are some disposable camera snaps from 2010!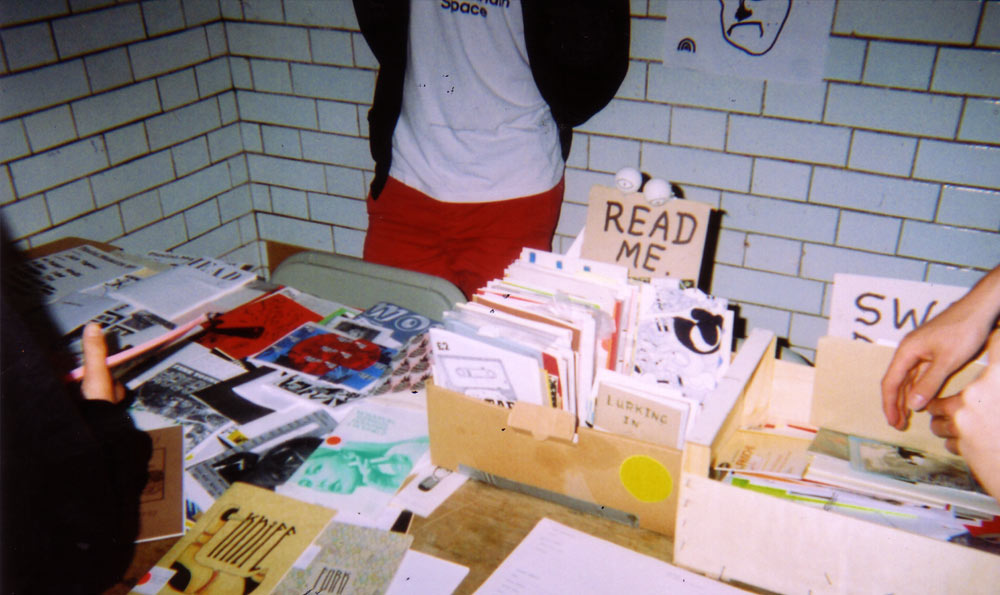 ---
ZINE/DOT - ORANGE DOT - LONDON

Little gallery tak over Orange Dot Galley which at the time was in West London....

"Since setting up Zineswap several years ago, Robert Peart and Gordon Armstrong have been offering a resource and opportunity for different artists and individuals to share their own zine creations, whilst themselves, slowly building a vast archive of contemporary Zine publishing. For the month of June the Orange Dot Gallery is proud to announce an exciting exhibition from zineswap, which brings you the rare opportunity to view their vast archive collection of contemporary zine publishing in a very special installation"

---
STOP SHOP - MARSTRICHT, HOLLAND


---
AMERSHAM ARMS - LONDON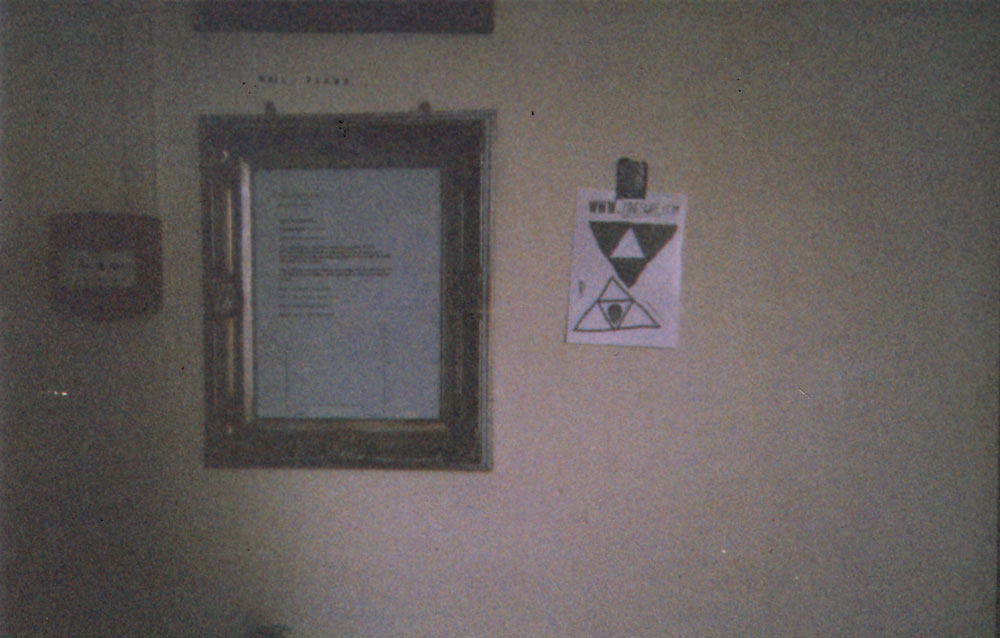 ---
URBAN ORCHARD - LONDON


---
PECKHAM SPACE - LONDON


---
NOTTING HILL ARTS CLUB - LONDON

Often we would lug the archive box on the tube or taxi and do a little pop up stall and one such occassion was at a gig at the Notting Hill Arts Club! But only got this one 35mm snap!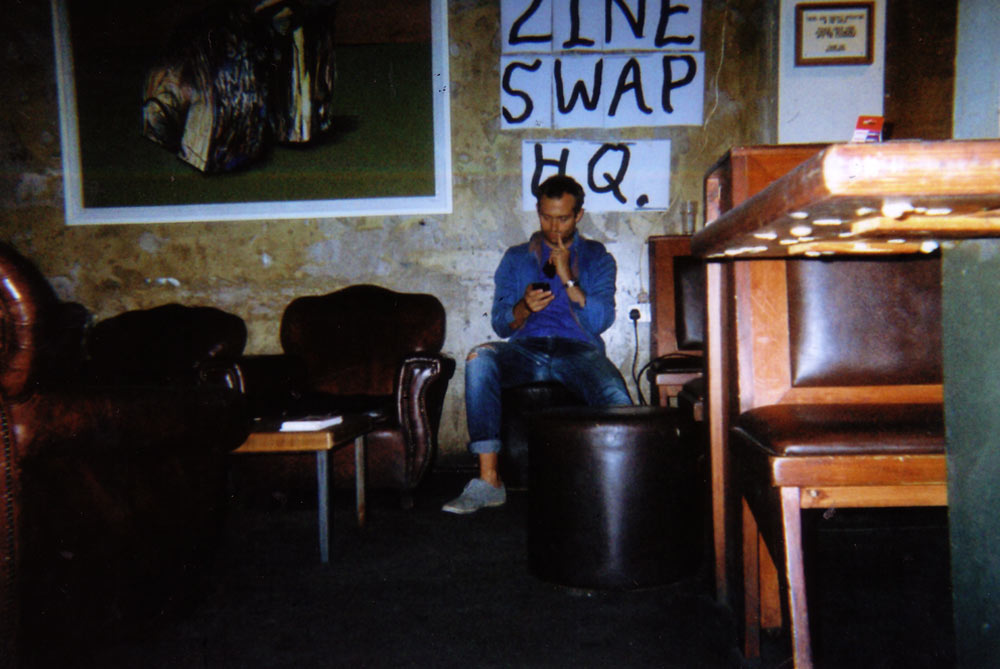 ---
TOUGH LOVE RECORDS - 7" RELEASE PARTY - LONDON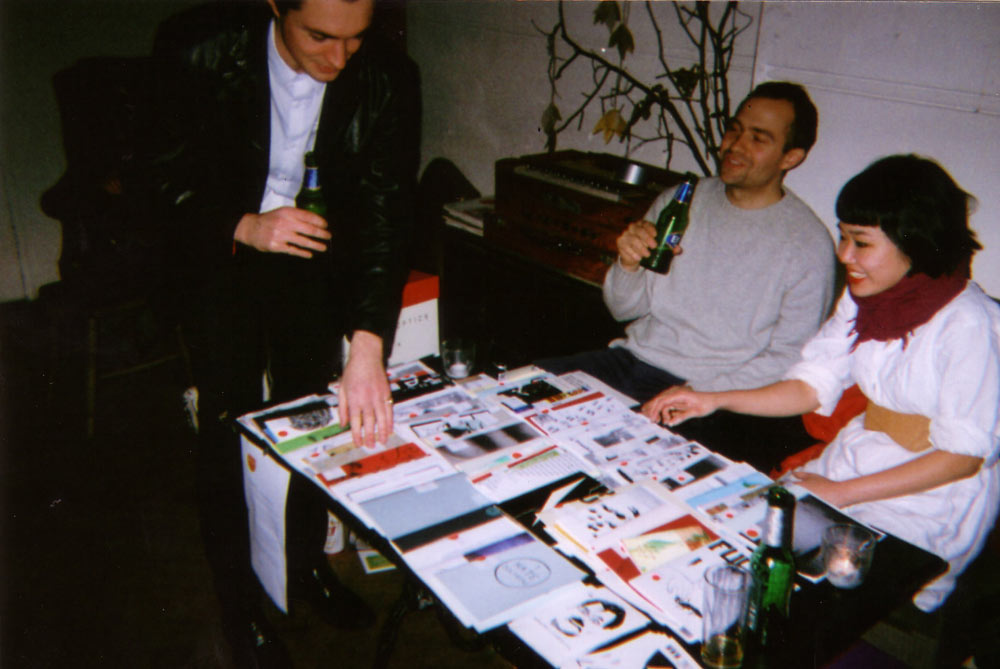 ---
OFF CUTS WORKSHOP - TATE MODERN

Off Cuts Zine Workshop: In collaboration with It's Nice That and ZineSwap, we created a two-day zine-making workshop in Tate Modern's Tanks, as part of the Hyperlink festival.


---
JAMBOREE - LONDON


---
ORBITAL COMICS - LONDON

---
RADFEST - LONDON
Photo by Owen Richards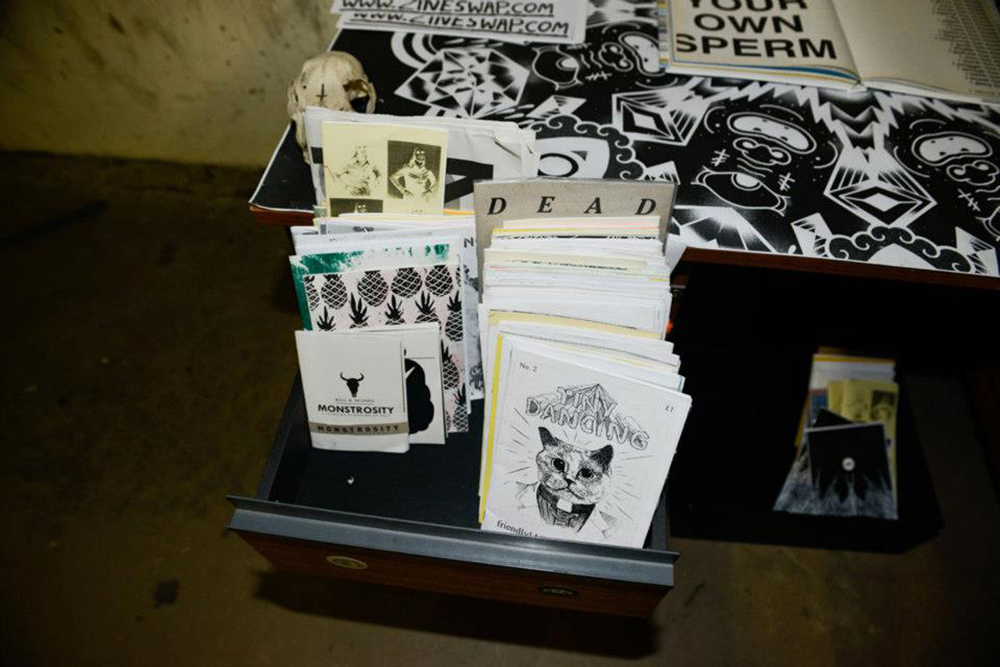 ---
DOODLING ZINE WORKSHOP (1) - ONLINE

Super excited to announce that Zineswap with be joining forces with Matt Gill (Raw Print) this Friday (16th April 12-1:30pm UK time) for an Awesome Merchandise online doodling zine workshop!




---
DOODLING ZINE WORKSHOP (2) - ONLINE

Tomorrow tomorrow! Zineswap are waffling about zines and doodling away for an hour on zoom with Awesome Merch as part of Birmingham Design Fest. It's for conference pass holders so go bag one or if you have one see ya at 1pm tomorrow


---
LEEDS ZINE FEST - LEEDS


---
IN ZINES WE TRUST - CAPS
A little phrase / mantra we hooked onto and brought to life as embroidered caps! Sadly now SOLD OUT!


---
ZINES ARE AWESOME - PENCILS

Pencils made as giveaway item for NTU students when we helped on a live zine based brief!


---
ZINESHOP
https://zineshop.firebaseapp.com
---
HAPPY BIRTHDAY (2) - RISO ZINE & PARTY

All this weekend Concrete Hermit will play host to ZINESWAP, for their second birthday celebrations. Expect a full-blown birthday party on Friday night (6pm-9pm at CH's Kingly Court store) complete with cake, mulled wine and a exhibition of the best 'zines from their extensive archive. There will also be an ALL NEW PUBLICATION to get your inky fingers on, printed by MANYMONO and including a discount voucher for Concrete Hermit, it will feature some of Zineswap's favourite spreads from the last two years. The exhibition/zine library and swapbox will continue through the weekend. So come down, say hello, read + swap + buy some sweet self-published stuff....


---
GEORGE TAVERN - EAST LONDON


---
TOTE BAGS
---
BANNER

Made for the Leeds Zine Fest to drape over the table of zines we carted there for browsing.


---
OTHER PRESS

︎ https://www.dazeddigital.com/artsandculture/article/5755/1/zineswap-ventures

︎ https://www.itsnicethat.com/articles/2816-zineswap

︎ https://brokenpencil.com/sharpener-2/zineswap-the-return-of-the-all-mail-zine-club/



---